A love for Nantucket & snacking.
As kids, we spent our summers on the beaches of Nantucket, surfing and boogie boarding, fueled by our favorite sandwiches and potato chips. Beach days turned into beach nights and barbecues with family and friends where we'd eat even more chips. To us, potato chips are part of the quintessential Nantucket experience. We created Nantucket Crisps so the spirit of those beach days can live on anytime and anywhere. Made in small batches, there's a bit of salty breeze in every bite.
Meet Sara
FAVORITE FLAVOR
Cisco Beach BBQ
FAVORITE NANTUCKET MEMORY
Boogie boarding at Cisco beach
FAVORITE 90S BAND
No Doubt
& Hayden!
FAVORITE FLAVOR
Madaket Sweet Onion
FAVORITE NANTUCKET MEMORY
Reeling in snapping turtles from the Madaket white bridge
FAVORITE 90S BAND
The Goo Goo Dolls
We Proudly Support Whale & Dolphin Conservation
Nantucket was once the whaling capital of the world. We honor the whales that once provided Nantucket with the oil to keep the island going. Nantucket Crisps has partnered with WDC to help conserve the North Atlantic Right Whale. Eat a chip, save a whale!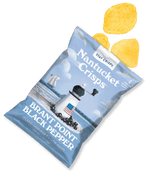 Why Nantucket Crisps?
Nantucket Crisps flavors are inspired by the many unique locations on the island. All flavors are gluten-free, NON-GMO, dairy-free, and Kosher. The crisps are slow fried with good oils in small batches to create the most mouth-watering thin and crispy chip.